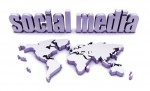 Well – it's FREE – d'oh!
Seriously though, many, many people are not understanding the immense power of Social Media in business.  It is clear that people who don't use it for business networking purposes don't 'get it'.  To them paid search campaigns are king but if your whole online marketing strategy is dependant on this then you leave yourself exposed.   The thing about Social Media is that you really have to go about it the right way.  The vast majority get it wrong.  Frank Kern is an Internet Marketing GURU.  He commented on one of our coaching sessions that he doesn't see how it can deliver.  My view; he just knows his thing well and does it exceptionally well.  I noticed he's appeared on Facebook adverts since then though!
Eric Qualman created this slide show on his Blog: Socialnomics to grab attention to the current statistics – it's a great Blog to check out.
These create quite a compelling argument for using Social Media as a primary force in your Online Marketing.
I'll be posting more about how to use Blogging and the matrix of wider Social Media to gain massive exposure to an audience that's ready and waiting to hear what you've got to say – resulting in masses of free, pre-qualified traffic.
I noted some of the stats that stood out for me below…….
This year GenerationY will outnumber baby boomers & 96% of them have joined a Social Network (Source: Grunwald Associates National Study)
GenerationY & Z consider email to be outdated compared to social media (source: Metro Newspaper)
Social Media has overtaken porn as the No.1 activity on the web!!!!!! (source: Huffington post)
If Facebook were a country it would be the worlds 3rd largest country (source: Facebook)
Fastest growing segment on Facebook is 55-65 females (source Fb blogg)
80% of twitter is outside of Twitter – mobile = anytime, anywhere (source: Attempting to relocate)
There are now over 200m Blogs (source: Technorati)
34% of bloggers post opinions about products & brands (source: Universal McCanns, Social Media Research Wave3)
78% of consumers trust peer recommendations (source: Neilson Global Online Consumer Survey)
25% of search results for the worlds top 20 brands are links to user generated content (source: Chris Aarons, Andru Edwards, Xavier Lanier Turning Blogs)
YouTube is the 2nd largest search engine in the world – in the next year video usage is going to quadruple (source: TG Daily)
Only 14% trust advertisements (source: Marketing to the social web, Larry Weber)
Successful companies in social media act more like party planners, aggregators, and content providers than traditional advertiser.
I hope this is useful information to you.  If you've seen value in it please comment or share it.
Now go on and get social !!