Law of Attraction in Action: Is this the evidence?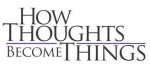 Yes I'm a skeptic of the Law of Attraction.  Or should I say I was a skeptic of the Law of Attraction?  Or perhaps it's safer to say I'm withholding my verdict awaiting more evidence.
The hocus pocus about the vibrations you put out to the universe coming straight back at you like a boomerang to give you exactly what you infer you want hasn't sat very easily with me.  I'm too programmed by life to just accept the Law of Attraction but I'm trying to change that.
We all experience those serendipity's or synchronicity's in life like when you desperately want that new something; you see it everywhere!  You notice it like never before because it's on your radar.  Life presents back to you where your focus is.  That is Law of Attraction.
So, yes, I've been researching the Law of Attraction.
No,  I've not lost my marbles;  I think it really can work.
I'm documenting a 'happening' here in this post as proof to myself and for you that when you state your intention and put yourself out there with full commitment it is possible for the magic to happen.
So I want to share with you what happened to me a couple of weeks ago because, to be honest it freaked me out a little.
I first need to give you some context:
I just made a life changing decision to take voluntary redundancy and throw myself into my business following my personal passions.  So I'm right in there just now, giving my new venture and my new life my total commitment, energy and focus – everything that the Law of Attraction rule book suggests you should do, and low and behold;
The first crazy thing that happens is that through deciding to mix with a local MeetUp group I'd met my new business partner Mike Little.   He just happens to be the co-founder of WordPress, and he just happens to live about  fifteen minutes away from me.  He also just happens to have similar views as mine as to making the New Internet Economy accessible to all for people to achieve their own personal wealth and freedoms.  Co-incidence or Law of Attraction in action?
You also need to know that Mike and I are creating an incredibly sexy Plugin for WordPress that will make social marketing far more productive and fun with the ability to  automatically explode your traffic getting efforts through your content and networking strategies.
This Plugin is called InfinityTribes.  That's important to the story.
We are creating a demo video for InfinityTribes and need some funky music for it.  I've had a track in mind and it's been driving me crazy that I haven't been able to recall its name or even the artist.
Within that context I can now tell you my little story:
It all started at 4am Friday when my toddler (unusually) woke crying.  Aaarrrgggh!  that spelled disaster for me.  I settled her and tried to go back to sleep but I had so much going around and around in my head that I couldn't.  I was getting more and more annoyed at being awake so eventually just gave up.
By 5am I was in my trainers running up the hill towards my favourite woodland space.  I usually listen to education and coaching audios at the moment because I've so much to keep on top of but as I needed all the energy I could get I chose to listen to some really upbeat dance music.  I was working through things in my mind and getting my thoughts together for the day.
When I got to the top of the hill I turned on to the woodland walk that takes me towards 'The Edge' a cliff top that over looks the Cheshire country side.  As I ran along the path I could tell I was going to be greeted by a wonderful sight as the sun was coming up directly ahead.  I was feeling good about the day.  I turned off the path and ran toward The Edge in front of me,  the cliff edge gave way to a beautiful pink sky with a soft orange globe for the sun and the whole countryside that I could see for miles was covered with morning mist.  It was an amazing experience.
Then as if that wasn't enough, just as I needed my energy to get to the top if the cliff, the track I'd been trying to remember came blasting into my ears on my iPod!  I couldn't believe it!  The track was called Infinity!  I stopped on the cliff edge looking out over this incredible view with my thoughts totally in order and listening to the sound track of the demo video that's going to perfectly promote the InfinityTribes project Mike and I are working on.  (If we get the licence!).
So, if it weren't for my toddler unusually waking me at 4am,  followed by my mad moment deciding to get out of my bed and run at dawn,  then choosing to run to dance music that I currently don't do,  I probably would never have found the perfect track that coincidentally has the name of the Plugin I want to use it to promote!  And I wouldn't  have had the most amazing start to my day.
All the above came about through positive choices,  my reactions to the each of the circumstances I experienced.  It could have gone a completely different way.
Co-incidence? Synchronicity? Serendipity?  I say that's pure evidence of the Law of Attraction in action.
I want more of this please.  When I have a wobble of faith in future I'll come back and read this post to remind myself that I am pivotal to the way circumstance transpires.
Saz Bailey's Crazy Evidence of Law of Attraction in Action (Excuse the heavy breathing – I had just run up a hill after all!)
What do you think of the Law of Attraction?  Any experience?  Or do you think is a load of B.S?
Please leave a comment below and let me know if you think I'm being brainwashed…….