Online Entrepreneurship sung to me.
I think it was probably around about 6 years ago now, my mother turned up at my house looking quite excited that she had found a book that was to be the answer, the beginning of my transformation to online entrepreneurship.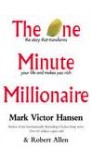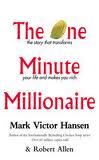 'The One Minute Millionaire:  The story that transforms your life and makes you rich' by Victor Hansen.
Hmmm, I recall reading the title and looking at her like she had lost her marbles.  But she knew me, as mothers do, better than I knew myself.
My mother saw me struggling to motivate myself through the tiresome, mind numbing days of a corporate life I was no longer committed to.  She could see a creative soul that was drowning in the noise of everyday life.  It's true I was on a downward spiral.  It was spreading, the boredom, the quite desperation,  across my whole life like an infection.  Yes I had a wonderful life.  I had (have) a wonderful husband, he's gorgeous, he's committed and he's fun.  I had the great job with the great salary and car.  I had a fantastic home that I'd enjoyed renovating and furnishing myself, a beautiful double fronted 18th century house in country village setting with an interior that I'd included everything that made me feel good.  I had the social life, the holidays, the gym time.  My life was a huge success wasn't it?
Then why, sitting relaxing watching TV in the evening did I feel uncomfortable, like I was wasting time?  Weekend, well most mornings actually were spent under the duvet (don't be rude) with a hang over!  Working for my then employer seemed to be cheating me of my potential despite the fact that they are one of the most innovative and people focused companies in the country.  I didn't understand then – I think I knew it, but I didn't understand – that I'm an entrepreneur.  It's something that's in your DNA and wont go away.  It makes you twitch with an energy that you just have to use or it'll drive you insane.
My mother, bless her, could see a yearning inside of me to BE different, DO better and HAVE more.
So I read the book.  Then I felt ashamed.  I had no excuses.
Let me explain;  imagine you had put on a few pounds that you really needed to loose and were struggling to do anything about it.  You'd thought about running but had all the excuses why you couldn't – you get out of breath too easily, your knees ache afterwards, can't fit it into your daily schedule etc. etc. etc. Then you meet the people who ran a marathon despite recovering from cancer, running on prosthetic limbs, being confined to a running track because of agoraphobia.  Your excuses become embarrassing.
Excuses don't stack up, especially to those people who have taken action.  I'll say to you what my mother said to me: 'It's time to wake up to your potential and just do what you would love to do.'
Online Entrepreneurship Enables You to Easily Live Your Passions.
This one book proved to be a tipping point for me to take action.  You too will probably find your tipping point.  When you realise there's just no other road you can travel.  If you are an entrepreneur in your core your time will come when you open your mind to possibility and to your own personal capability.
You'll find your business ideas.  Ideas are out there, everywhere.  People who take initiative aren't.  If you have great skill and passion in something it's your duty to share it to give positivity back to the world.  The more successful, positive, abundant acting offline or online entrepreneurs there are out there the better our world will be.
If you're not sure of your ability to do something in your business then learn it, invest in your own personal development, fill those knowledge gaps and create a team of people to plug the skills.  Being an entrepreneur is about taking action around your creativity.  You don't need to be the best at anything to make something happen.  You do need to create a mindset that supports your journey.  Read, network, learn, create an environment that matches and attracts the world you want to live in and the life you want to experience.
You need two things to be successful in creating success and your own wealth: a burning desire and a willingness to act.  Online entrepreneurship can expedite that.  If you make a commitment to your future that's based on your burning desire then the law of consistency will ensure that you follow through.   Again, it's in your DNA, you can't help but want to stand by your decision.
As in the book, I liken entrepreneurs to a honey bee who's primary objective is to obtain nectar to make honey.  Whilst in the process of collecting nectar it's involved in a much bigger purpose.  The cross pollination it creates from it's work has a far more important outcome than the honey it makes.  It results in a beautiful, bountiful garden.  This is about creating wealth where everyone wins through the value brought to every purposeful connection.
I hope this short post helps at least one person to make a commitment to change and take inspired action towards offline or online entrepreneurship.
Please let me know if that happens.